Labradoodle Dogs What Are Labradoodle Dogs?
February 2
Labradoodle Dogs are a cross between a Labrador Retriever and a Poodle. It was the most popular breed of "designer dog" in the United States until the Puggle burst onto the hybrid dog scene in 2005. The goal of the breed mix is to retain the intelligence, aloofness, and non-shedding coat of the Poodle, along with the loyalty, loveability, and cheerful high energy of the Labrador.
Today's Australian Labradoodle breed is different from the early crosses in that it doesn't limit parentage to strictly the Labrador Retriever and Poodle. Australian Labradoodles may also have Irish Water Spaniels, English and American Cocker Spaniels, and Curly Coated Retrievers among their ancestors. An ancestral mix of temperament, easy trainability, non-shedding coat, and sturdy body type is the common goal of Labradoodle breeders. Australian Labradoodle Dogs can have one of two coat types: wool or fleece. The wool coat is completely free of shedding, while some fleece-coated dogs may exhibit very slight shedding.
There is a movement among breeders to block Labradoodles from becoming a recognized breed. Labradors are genetically prone to weak hips, and it is believed these type of problems will continue to manifest in the Labradoodle. Neither the Labrador Retriever Club nor the Poodle Club of America recognize Labradoodles, and both have issued statements against the breeding.
Labradoodle Dog size
Miniature: 14 to 16 (not over 17) inches (or about 35-42cm) from the wither to ground measurement. There is no correlation between height and sex in the miniature size . Weight range tends toward 7-12 kg or about 30-45 lbs.
Medium: 17 to 20 (not over 21) inches (or about 45-52 cm) from the wither to ground measurment. The ideal size for the female is 17-19 inches and the male is 18-20 inches. Weight range tends toward 13-20 kg or about 30-45 lbs.
Standard: 21 to 24 (not over 25) inches ( or about 43-52 cm) form the wither to ground measurement. The ideal size for the female is 21-23 inches and the male is 22-24 inches. Weight range tends toward 23-30 kg or 50-65 lbs. Oversize is a major fault.
Traning: Labradoodle Dogs are very easy to train in basic and advanced obedience. With the traits of the Labrador and Poodle the Labradoodle is quick to learn just about any command taught.
Electronic pet containment is a breeze with Labradoodle Dogs. The key is to find a dog fence company that uses true dog professionals not just another fence company. The Labradoodle can be ruined by an inexperienced trainer or by a "just shock them into staying in the yard" mentality.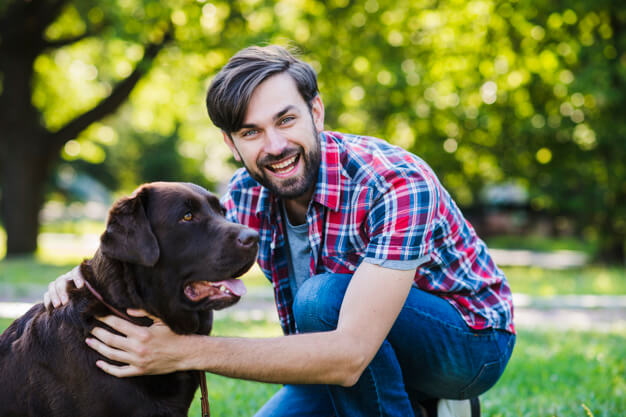 Have Questions? Call Us
1-800-777-3647
Just 15 Minutes Now Can Change Your Lives For The Better!
** Dealer participation may vary. Please check with your Dealer on their containment guarantee.